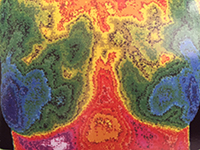 IntraHealth Thermal Imaging combines the latest in technology and experience to provide each woman with a safe, comfortable, and accurate examination that can reveal life saving information. Imaging also assists with monitoring progress/status while following a breast care treatment plan.
What is thermal imaging?
For centuries, doctors have used temperature to detect disease. Thermal imaging is an advanced technology that captures a picture of the heat patterns of the breast. Because cancer and precancerous conditions may alter the breasts' temperature and blood supply, they often produce signs that appear clearly on a thermal image.
Once identified, the problem can be more easily managed and treatment may occur sooner.
Our thermal imaging system scans the body using an ultra-sensitive thermal camera that produces no radiation or tissue compression. These images are analyzed using sophisticated computer technology. This information is used to determine if the breasts appear to be at risk for disease.
The result is a safe, comfortable, and accurate examination that can provide vital information regarding a woman's breast health.
What is thermal imaging used for?
Breast cancer risk assessment
Detecting effects of estrogen on the breasts
Helping determine the cause of pain in the body
Assessing risk for sports injury
Visualizing risk for sports injury
Visualizing circulation to the head or extremities
Visualizing spinal nerve function to the extremities
Detecting occult dental infection
Detecting subclinical thyroid conditions
Skin cancer risk assessment